< back to news
West Suburban Living Magazine: Q & A with Ron Onesti
Ron was recently featured in West Suburban Living Magazine's Q & A.
When Ron Onesti took over operations of the Arcada Theatre 15 years ago, the one-time 1920s-era vaudeville show palace in St. Charles was showing second run movies, in disrepair, and in danger of being turned into an office building. Rallying community support, Onesti transformed the Arcada into a popular live music and entertainment venue which, during the pandemic, has been significantly upgraded and expanded. Onesti, who lives in Wood Dale, now operates several entertainment venues in the Chicago area including the soon-to-open, 600-seat Des Plaines Theatre in Des Plaines.
You grew up on the northwest side of Chicago. What was your childhood like — what were your interests? Any particularly strong memories?
RO: I was actually born on Taylor Street in Chicago's Little Italy and from my early years I was taught how important family and neighborhood relationships are. It's from those years and subsequent years when we moved to the northwest side I came to understand the beauty of Chicago and it's neighborhoods.
You went to the since-closed Weber High School. What activities were you involved in? Didn't you work for the school radio station and did that involvement in any way serve as a precursor for your later role and career as a music promoter?
RO: When I first got to Weber I wanted to be a part of everything. I probably joined a dozen clubs! But it was my involvement in student council, WEBER Radio and being on the baseball team that most effected my path down the concert and special event production route.
You went to DePaul and then years later were managing the popular Beatles cover band American English just prior to taking over operations of the Arcada in 2005. Briefly fill in the years between — eg: How did you first get in the music promotion business, and what were some of the key steps along the way?
RO: During my years at DePaul's College of Commerce, I really came to understand the essence of entrepreneurialism. I ventured off into different self made enterprises during college including a printing and silk screen operation, a donut shop, and a promotions company. Because of my involvement in Chicago's Italian American community I became a part of the growing festival initiatives that were began under mayor Jane Byrne. I handled the entertainment at the Italian festivals which resulted in my interest piquing in "show biz". That lead to me managing a prominent Beatles tribute band "American English." When the owner of the Arcada Theatre didn't respond to my call about a reoccurring concert the band had there, I came to find the building was being renovated into an office building. One thing lead to another and I was able to restore it back to it's original splendor from 1926. And here I am today!
You really took a step of faith in taking over operations of the Arcada. What were the biggest concerns going into it and how did a trip to Field of Dreams in Iowa play into that?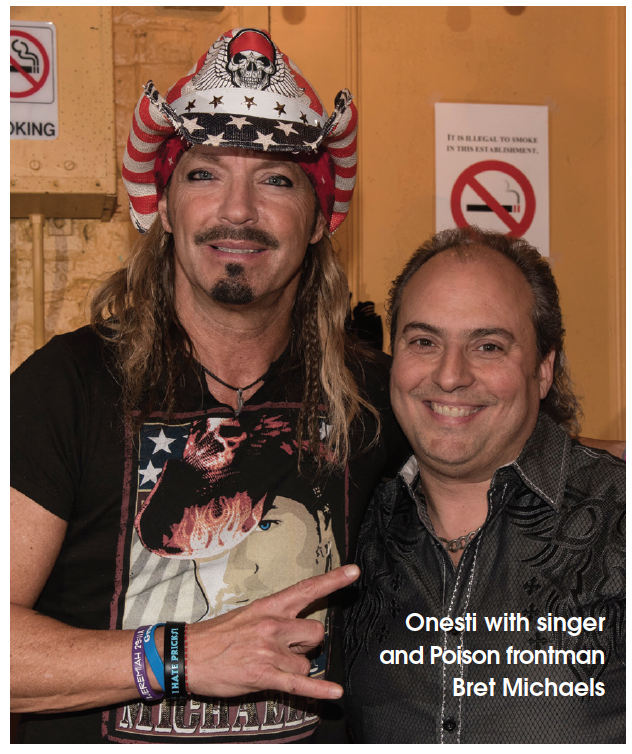 RO: I played organized baseball from the time I was five years old until I was 33, always a huge baseball fan. On my bucket list was to throw the ball around on the "Field of Dreams" in Dyersville, Iowa, where the movie was shot. My brother and I decided to drive out there one Sunday morning, and it happened to be the weekend I was to make the decision of taking over the theatre. I wasn't really sure if I should take on the financial and emotional responsibility tied into that big of a place. But as we threw the ball around the "If you build it, they will come" thing hit me and I decided to do it. Everyone thought I was crazy, including myself, because it was going to take a lot of money, time, effort and finger crossing.
How difficult was it those first years to get bands and performers to come all the way out to St. Charles to perform? Were there any benchmark bookings or especially well received concerts in those early years that made you really believe it was going to work or that helped open the doors for other performers to come to the Arcada.
RO: A big part of this industry is not only having the money to afford the acts, but also the reputation to be awarded the trust that comes along with booking the bands. At first, I could only afford tribute acts and maybe a couple artists from the 1950s. But as time went on and my relationships with agents, managers, and artists increased, and as ticket sales grew larger, that brought in the bigger acts. My first show was probably one of my biggest benchmarks because I wasn't sure if people were going to welcome the Arcada as a live music venue versus a movie theatre like it was for years. So I put together American English, the Beatles tribute band I was managing, with original members of Paul McCartney's Wings (without Paul and Linda of course). It was a Beatles and Wings fantasy show and it was truly incredible! That's when I knew I could make this work.
Of all the performers you have worked with over the years, which ones have you gotten to know best. Any good stories you can share?
RO: If you recall my earlier answer about the Field of Dreams, I actually created a friendship with Kevin Costner by booking his band Modern West here. He actually teared up when I told him he was partially responsible for me taking over the theatre. Paul Anka has become "Uncle Paul," Connie Francis has become "Aunt Connie," and guys like Bret Michaels, Carmine and Vinny Appice, and so many other 70s and 80s rockers have become close brothers and sisters of mine. When it's all said and done they are people just like us, and when you earn their trust, they become lifelong friends.
Of all the concerts/performances you have booked or promoted, are there any that stand out as particularly memorable — or even kind of magical for one reason or another — and if so, which ones and why?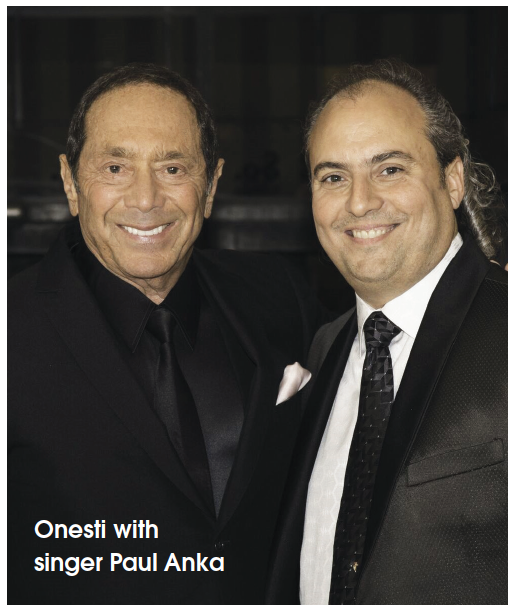 RO: For me what has been a magical part of what I do is that I have been able to create relationships with true legends and icons. Getting hugs, handshakes, and advice from the likes of Mickey Rooney, Shirley MacLaine, Debbie Reynolds, Martin Short, Howie Mandel, Frank Sinatra Jr., Joan Rivers, Paul Anka, Connie Francis, Neil Sedaka, Sophia Loren, Tony Orlando, Don Rickels, Jerry Lewis and a few others.
What shows were memorable for other reasons — power outages, bad weather, or other challenges? I'm guessing you and your staff have had to be quite the creative problem solvers over the years, and often on spur of the moment — any examples?
RO: Producing outdoor events has always presented its challenges. We were doing a country show at a racetrack one year with Toby Keith. I remember standing on the stage during sound check at 3 p.m. and I watched a twister actually land at the end of the track and it started coming our way. Within a minute or so we had everyone evacuated we literally watched this twister approach the stage, it picked up the roof of the stage and spun it so the metal was all bent. We came back outside, disconnected the stage top forcing me to crawl along the bent steal. The fact that I have a fear of heights made it a tad more interesting. But by 8 p.m. the show went on under a beautiful sky and, of course, no rooftop.
While working in "show biz" can outwardly seem to be glamorous, what are some of the behind-the-scenes aspects of the job that readers would likely find surprising?
RO: From the moment entertainers step off the plane to the time they walk back on, every details is my responsibility. It's not just the sound, the lights and the stage I have to make sure they have but it's also that Japanese ginger root, Peruvian tea, and hundred year old bourbon that must be waiting for them in their dressing room upon their arrival. Chuck Barry would only use a certain amplifier, one of only four that existed in the whole country, or he would have to be paid a $2,000.00 fee. I found the amp in a small town in Louisiana, and saved two grand.
Despite the challenges of the business and the potential to get a bit jaded over the years, you unabashedly admit you still get "star struck." How have you been able to remain a fan at heart?
RO: By truly being a fan with respect and admiration and a sincere approach to the artist. Believe me, the entertainer knows if you are a true fan or an autograph hound. They can see through fake praise and can feel the love if it's meant and frankly, I am a personal fan of about 95% of the acts we book here. They know it, they feel it, and that's what keeps them coming back.
How difficult has the pandemic been for your business? And while you tend to be a pretty optimistic guy, being closed for a year has had to be challenging personally as well. How have you coped?
RO: All I can do during all of this craziness is to consistently be positive, think about the joy that we have created for so many people and have been creative with upgrades, expansion, and overall company betterment. And once in a while I sit in one of my empty venues and reminisce of those nights when every seat was taken and the air of either the concert hall or the restaurant was filled with the sweet sound of music or the wonderful smell of garlic.
You and the owners of the Arcada have put the downtime to good use, making some significant renovations to the Arcada while also updating and expanding the entertainment options that will be offered when you re-open. Briefly tell our readers what they can expect and when are you tentatively hoping to re-open?
RO: All I can say at this time is that major renovations in St. Charles will include themed hotel super suites, new restaurant and bar opportunities and yes, new bathrooms and HVAC. Pending state mandates, we expect to open in spring.
Your career has allowed you to meet lots of interesting people and have some interesting experiences along the way. Looking back, do any accomplishments particularly stand out?
RO: I've been fortunate to have been recognized by various entities for milestones in my career. I guess being knighted by the president of Italy in the presence of my mother and receiving the Ellis Island Medal of Honor in front of my father were two big ones.
What are your favorite things to do or places to go in the western suburbs, eg: restaurants and places to hang out?
RO: I have quite a few favorites including Pronto Cafe in Norridge, Villa Verone in Geneva, St. Charles Place, Riverside Pizza in St. Charles, Flagship on the Fox in St. Charles, Scudiero's sandwich shop in Melrose Park, Spavones in Bloomingdale. But when I'm really craving something you can always find me at Gene's and Jude's hotdogs in River Grove! But truly, there are so many that I try to support. As far as I'm concerned, the owners of the "ma and pa" businesses are heroes.